A strong and healthy team starts here
Recruit and Retain Top Talent
Show employees you're invested in their wellbeing
Lower Healthcare Costs
When your employees and their families are healthier, they have fewer medical bills, saving your company healthcare dollars.
Customized Plan
We help you build a program that meets your goals.
Subsidy Matching
We help you build a program that meets your goals.
Marketing
We help you build a program that meets your goals.
$0 Joiner Fee
With less cost up front, it's easier for your employees to get up and running.
Membership Discount & No Contract
Enrollees enjoy the best membership rate available for themselves and their families. Annual minimum savings of $180.
Try Before You Buy
All employees and their dependents enjoy a
one-week FREE YMCA trial membership each participating year.
Full YMCA Membership Benefits
Free group exercise classes, discounts on programs, childcare (additional cost), and much more!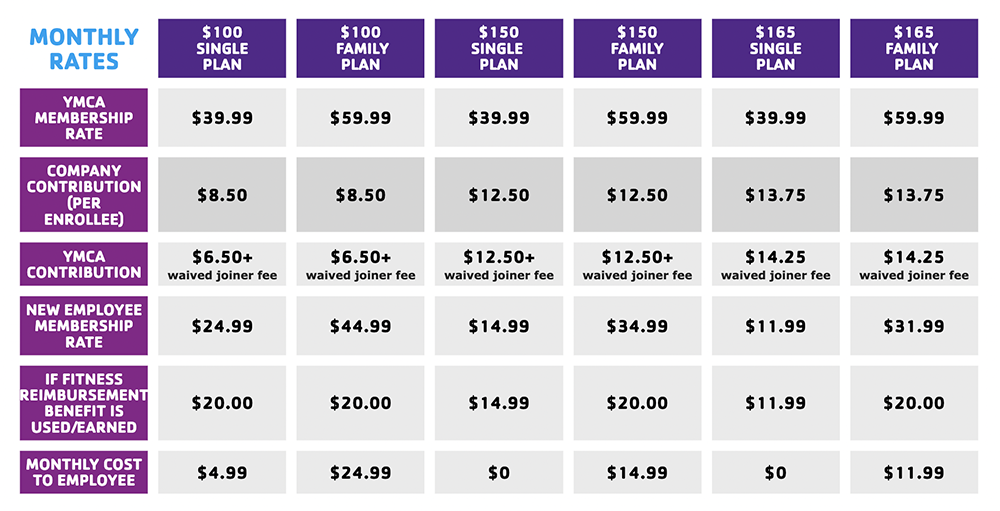 Company contribution (per enrollee)
New employee Membership rate
If fitness reimbursement benefit is used/earned
Companies with health promotion programs can see a return of $3-$6 for every $1 invested over a two to five year period.*
*Documented savings are observed in medical costs, reduced absenteeism, worker's compensation claims, short-term disability, and presentism (lower on the job efficiency due to employee health problems). Data from the American Journal of Preventative Medicine.
Workplace Champion Series
Optional add-on to encourage team bonding and enhance health and wellness in the workplace.
Private Fitness Class (50 minutes)
Classes include, but are not limited to:
Boot camp
Muscle Pump/HIIT
Cycle
Zumba
Yoga
Select classes are available upon request at your workplace. Additional fees may apply.
Health Seminar (60 minutes)
Topics include, but are not limited to:
Healthy Eating and Cooking
Sleep Health
Heart Disease Prevention
Cold/Flu Prevention
Weight Management
Topic(s) selected based on health interest survey given to employees and management.
8-lane lap swimming pool
Zero depth entry family pool
Spiral slide
Hot tub
Sauna
Steam room
Lazy river
Interactive water play equipment
State-of-the-art equipment
80+ pieces of cardiovascular equipment
45+ pieces of strength training equipment & a large variety of free weights
Rock Climbing Wall
Indoor walking / jogging track
Three group exercise studios offering more than 80 classes
Pilates Reformer studio
Kid Zone
Three gyms featuring basketball, volleyball, and pickleball
Three locker rooms (Family, Women's, and Men's)
Two racquetball courts
Multi-purpose rooms for birthday parties, conferences, and more
Locker & towel service
At the YMCA, health and wellness is what we do. Together, let's create a program that keeps your employees healthy, happy, and productive.
Why the Y?
We're more than just a gym, a pool, or a place for fitness.