I have been an athlete most of my life and involved in the fitness/sports industry over 15 years. My love for fitness came at a young age competing in a variety of sports including tennis, track & field, basketball and swimming. My personal training style is a culmination of accomplished endeavors. If you train with me you will perform functional exercises that mimic more "real world," everyday activities, using multiple muscle groups and joints at the same time to give you a killer full-body workout. I'm fierce about empowering my clients to be confident in the gym space and ultimately becoming the best version of themselves! My motto is…I train with a burden everyday…because it is my weakness that makes me strong!
Education and Certifications:
BS Degree in Kinesiology/ Health & Wellness and Major in Biblical Studies from the University of Northwestern St. Paul
W.I.T.S Personal Trainer Certification
SCSU Group Fitness Instructor Certification
NETA Spin Certification
TRX Certification
Yogafit Certification
Stott Mat & Reformer Certification
CPR Certification
Training/Specialties:
Functional Training
Sports Specific (Experience in cycling)
Body Sculpting
Strength Training
TRX Suspension Training
Kettlebells
Small Group Training
Health & Wellness Education
Interval Training
Triathlon Training
Having worked full time in the fitness industry as both a personal trainer and group exercise instructor for the past 25 years, my experience is broad. I have worked with people just starting out on their path to fitness, athletes, pre and post-natal women, active seniors and a lot of people in between. My joy comes from seeing others find joy in their life through fitness and wellness. I believe in balance – there is always time for exercise, but our bodies need rest and fuel and the occasional treat ? I would welcome the opportunity to be a part of your fitness journey!
Education & Certifications:
B.S. Community Health, SCSU (3 yrs at University of Minnesota – Morris)
Certified Personal Trainer – American Council on Exercise
Certified Group Fitness Instructor – American Council on Exercise (also held secondary certification through Aerobics & Fitness Association of Amercia)
Yoga Instructor – YogaFit (through Level 4)
TRX Professional Education Course completed
Zumba Instructor – Zumba Basics
Training/Specialties:
Boot Camps
Small group training
Pre/post natal training
Active Older Adults
Functional Training
Yoga/Flexibility Training
Kettlebells
TRX
Resistance/Strength Training
Functional Training
As a trainer, I believe in taking on new challenges in physical fitness to improve both physical quality of life and the mental health benefits that follow. Functional training is what I strive to implement and educate about, it's the best way to create positive change and better action through our daily activities. I would be delighted to coach you through your fitness journey, and provide the support, motivation and education to be successful in your new endeavor!
Education and Certifications:
Bachelor of Science, Community Health, St Cloud State University
Certified Personal Trainer – American College of Sports Medicine
TRX Certified
North Jr. High Track and Field Coach – Distance
Training/Specialties:
Athletic Training/Sports Specific
Functional Training
Small Group Training
Couch to 5k
Half Marathon and Long-Distance Training
Resistance Training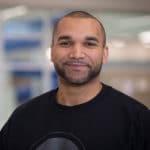 Dan is a former Division I scholar athlete, which included 5 years of intense strength & conditioning programs, as well as high-level athletic performance training under some of the nation's most accomplished coaches and staff. He enjoys sharing his learned knowledge, extensive experience, and the challenge of developing creative and unique training plans to assist others. Dan's clients and people he has assisted include college athletes, body builders, rehabilitation patients, people returning to fitness routines after an absence, as well as assisting people who desire to break through their obstacles and achieve a higher level than they were able to before.
He is passionate about assisting others in obtaining their goals and meeting them on their own level, which is why he chooses to train by these three quotes:
"Your goals are my mission"
"Let's give passion a vision"
My passion for fitness stems from my background as an athlete and coach. I was primarily a dancer growing up and a hockey player in high school. I also coached youth hockey for a few years. I was always happiest when I was engaged in movement! I decided to turn my passion of movement and fitness along with helping others into a career. My goal as a personal trainer is to help educate, empower, encourage, motivate, challenge, guide, and support clients along on their fitness journeys.
I have worked with a variety of clients- anywhere from young athletes to active seniors. Whether you are just starting out on your fitness journey or already have years of experience, fitness is for everyone! I would love to be apart of your fitness journey.
Education and Certifications:
B.S. Physical Education, St. Cloud State University
Certified Personal Trainer- National Academy of Sports Medicine (NASM)
CPR/AED and First Aid Certified
TRX- Group Training Certified
Training/Specialties:
Small Group Training
Partner Training
Bootcamp
TRX
Athletic Training/Sport Specific
Build A Better Athlete Program
Resistance/Strength Training
HIIT/Circuit Training
Functional Training