The online giving feature is temporarily disabled. To make a gift, please contact Diane Hageman at 320-253-2664 or 
[email protected]
. Thank you for your support!
Countless people know and depend on the YMCA, but the Y is so much more than many people realize. In addition to being the place children learn to swim or adults go for their daily workout, the Y responds to the needs of our community. We're dedicated to nurturing the potential of every child and teen, improving the community's health and well-being, and providing support to our neighbors.
As a non-profit, mission-based organization, the Y has a responsibility to reconnect our community, but we can't do it alone.
Our goal for 2023 is to raise $550,000 to support our financial assistance program, Safety Around Water initiative, Camp Olson, mission program, supervised visitation and exchange program, and much more!
More than 2,400 seniors are strengthened by group exercise classes and fitness programs dedicated to healthy living.
 Each month, 70 families are brought together through our Supervised Visitation Program.
More than 16,000 members use the Y to become stronger in mind, body and spirit. 
An average of 3,000 kids participate in swimming lessons annually. 
On average, more than 1,100 kids enjoy our youth sports programs each year. 
Donor Recognition and Impact
Join our community of year-round givers. Pledge your support and tell us when you'd like to make your gift. Monthly, quarterly, and one-time donation schedules are available.
Donors who pledge at least $50 by March 31 will be recognized on our donor wall. Those who pledge $1,000 or more will have their names displayed on a banner inside the Y.
$20,000 Illuminator: Expands our Safety Around Water program to more schools in the St. Cloud area.
$10,000 Ambassador: Provides scholarships for 28 families for a year.
$5,000 Founder: Sends 5 students to the Y's Camp Olson.

$2,500 Benefactor:

Supports 20 youth membership scholarships for one year.

$1,000 Champion:

Ensures that 50 children enjoy our youth sports including basketball, soccer and more for one month.
$500: Funds nearly 20 hours of scholarship assistance for a family using our supervised visitation program.

$250:

Ensures that 3 kids can enjoy our summer camp for a week.

$100:

Helps 3 children learn swimming skills during a month of lessons.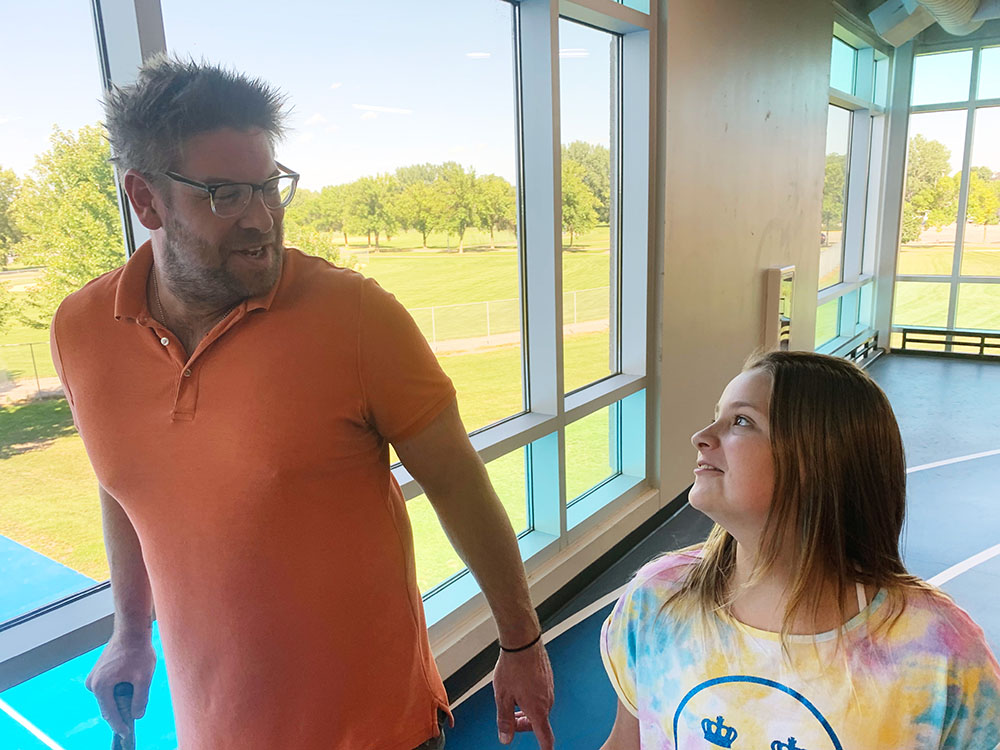 "I like EVERYTHING about the Y!" exclaims 10-year-old Ryann Weirens. "It's fun to do the rock wall, swimming lessons, play basketball, and walk with my dad around the track." Ryann also aspires to be a lifeguard and swim teacher.
Ryann's dad, Blake, who has diabetes and uses a cane due to a car accident, lifts weights to gain strength. The Weirens are able to enjoy all the benefits of the Y due to financial assistance with their membership and program fees. "The Y has been so supportive of us. It's such a great place! I always feel better when I leave."