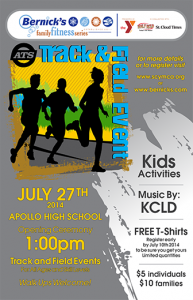 ATS Track & Field Day is July 27!
Join us for the Anderson Trucking Track & Field Event
Where: Apollo High School
When: Sunday, July 27, 1PM – 4PM
The popular Anderson Trucking Service Track & Field Day is coming soon! This event is for all ages and abilities: run, jump, throw and have fun with the whole family!
Individuals: $5
Families: $10